WEDDINGS
"Couples spend so much time ensuring everything's perfect for their wedding. But the most important bit is so often overlooked; the ceremony itself. And it's made or broken by the person conducting the service. It's by far the most important bit to get right on the day".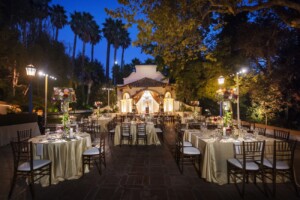 It was the first thing I learnt in my celebrant training and it's so very true.
Everyone's love story is unique so you need someone who'll shape your service into who you are, stamp your character on to it and make the day totally 'yours'. I dedicate time getting to know your story; what brought you together, what makes you 'tick' and where you see your lives going. I then use this to build a service that's totally personal to you.
My background as a Broadcaster and conference moderator means I'm totally at ease conducting your service; giving it pace, warmth, personality and professionalism.
Together we'll choose the perfect style to reflect your personalities and cultures and the perfect words to express your feelings. And don't worry, I'm there with lots of ideas and help to guide you along the way.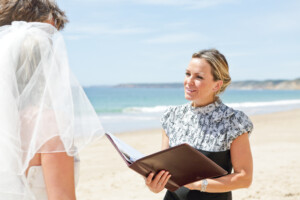 There are no rules in my ceremonies regarding religion – elements can be included or excluded as you wish; after all, a marriage is a celebration of unity and love and that's at the heart of my wedding services. 
So whoever you are, whenever you're getting married and whatever your plans are for the future, my job is to ensure this is 100% the biggest celebration of your lives together…
 AN OVERVIEW OF YOUR CEREMONY
Your wedding ceremony will kick-start your Big Day in Portugal. And in many ways, it will be just what you'd expect a wedding to be (it's where you walk down the aisle, exchange rings, commit your Vows and you're pronounced "man and wife").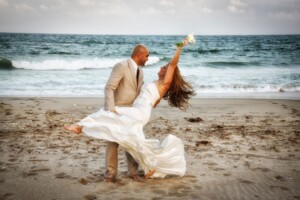 But the beauty of a celebrancy wedding is that it's much more flexible and open to personal input. Of course we can do the "Classic" wedding, but we can always add other elements to put your stamp on it; your music, your choice of words, your stories, your chosen Unity Ceremony.
In the months running up to your wedding, we'll be in touch via Skype/FaceTime/face-to-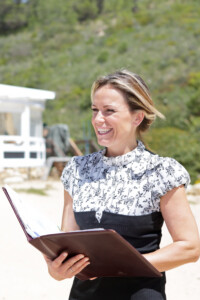 face. It's during this time that I find out more about your lives and we build a structure to your ceremony. I then sit down to write, based on what we've discussed and I'll send you the script for you to ponder until we have it exactly as you want it. The one bit I get you to write yourselves are your Vows – these have to come straight from your own hearts.
It's important for you to realise that Celebrants are not Registrars so we can't conduct the legalities on the day; you can invite a Portuguese Registrar to your wedding to do this alongside the Celebrant, but if you don't speak Portuguese, you will also need a translator (a Wedding Planner can arrange this all for you).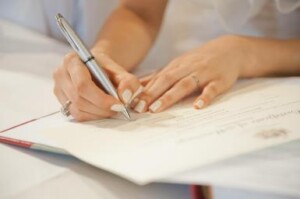 So to keep things simple, most people coming to Portugal to get married go through the legalities beforehand in their Home Country. This obviously ensures they're married under the laws of their country and it keeps things far more simple on the day.  In terms of the UK, the legalities involve making an appointment 28 days earlier at a Register Office, then attending with two witnesses. The exchanging of rings, Vows, music, Readings and symbolic rituals can all wait for your Portugal wedding…
THE STRUCTURE OF YOUR CEREMONY
Your wedding can be exactly as you want it (we can discuss this in more detail). But this is the traditional structure of one of my ceremonies:
Lucy welcomes guests and Groom
Bridal Entrance
This is where the Bride is walked down the aisle to music, traditionally accompanied by her father or someone significant in her life
The Giving Away
This is where I ask "Who gives this woman to be married to this man?".  The person giving her away says "I do"
Introduction & Address
I introduce myself, tell a few stories about the Bride and Groom. This is a good place for a Reading from me, a guest or the couple.
The Asking
There are various ways to introduce The Asking; it is essentially where I ask the Bride and Groom a few questions individually about their commitment to their unity.  Their responses will usually be "I will" or "I do" (depending on phrasing of the question)
More Stories (plus Reading or singer?)
The Vows
This is the moment you make your promises to each other – and it's the bit I encourage you to write yourselves.  Your Vows can be funny, sentimental, long or short…
There are 3 types of Vows:
Echo – I say "Please repeat after me", then read the Vows one line at a time, with the Bride or Groom repeating until the vow is complete.
"I Do" – I begin with "Do you promise…?", then read the entire vow, followed by the participant's response of "I do"
Recital – a more personal vow, spoken from memory or from a print-out of that I can pass you. Or they can be spoken spontaneously, depending on how the mood takes you…
The Ring Ceremony
Some couples both chose to wear a ring; sometimes just one person (usually the Bride) opts for a ring.  There are different options for the words used and whether you'd like a prompt from me, repeating the words after me or speaking your own words.
Here are some examples:
"I ask everyone here to witness that I (name)/ take you (name)/ to be my lawful wedded husband./ I give you this ring / as a symbol of my unending love/ and of the promises I have made to you today"
OR
"(Name), as I give you this ring, I commit my heart and soul to you. I ask you to wear it always to remind you of the love which brought us together and the love which keeps us together. Just as this ring enfolds your finger, so my love will enfold you always" 
OR
"(Name) I give you this ring, a symbol of my never-ending love, devotion and trust, and pride that you are my husband"
The Kissing
At this point, I declare you "husband and wife" – and you can have that first kiss as a married couple!
Unity Ceremonies
This is the moment where you might want to introduce a symbolic Unity Ceremony (such as a sand ceremony, the lighting of a candle, the signing of a Memories Book).  There's more information on the Unity Ceremonies page. 
After the Unity ceremony, the Bride and Groom return to the stand in front of me.
The Declaration of Marriage
I offer you my congratulations and wish you farewell as you walk back down the aisle together as Husband and Wife…!